It's Got Everything You Need to Succeed.
You want the BEST workouts of your life? YOU GOT IT! Power Chews Pre-Workout is designed to help you train bigger, train harder, and train faster so you can experience the best gains of your entire life.
So what's inside?
Check it out. Power Chews Pre-Workout is engineered with 10 of the purest, hardest-hitting, most highly concentrated, and fastest-acting pre-workout ingredients ever developed.
No mile long fairy-dusted ingredient panel stretched to the max. No useless ingredients that do nothing but waste your money. And no pills to gag down or chalky powders to mix. Just explosive, iron crushing, pre-workout performance fuel condensed into 4 electrifying and mouth watering chewables!
Do you want insane energy to go all out, razor sharp focus to feel every rep, and unrelenting motivation to annihilate your old records? You got it!
But if you're tired of pre-workouts that deliver the kind of stimulant-crashes that kick your butt HARDER than you've already kicked YOUR OWN butt in the gym, this is where Power Chews Pre-Workout gets crazy.
You see, Power Chews Pre-Workout is engineered with Micro-Detonation Technology™. Here's how it works.
This nano-inspired technology allows bio-molecules to be "programmed" and detonate off layers filled with a key energizing ingredient at strategic points pre, during, and post workout.
This lets you experience all of the wicked training intensity...without falling victim to the post workout stimulant crash experienced with other formulas.
Power Chews Pre-Workout is designed to help you transform the way you look, feel, and perform in the gym...and out of the gym too.
It's got everything you need to succeed.
It's concentrated with the best muscle building, strength inducing, performance enhancing supplement in the world - Creapure® creatine monohydrate.
It's loaded with every endurance-addicts' favorite, beta alanine.
It's rich with every pump-fiends' best friend, 100% pure, pharmaceutical grade AAKG.
It's fueled with a faster acting and longer lasting form of caffeine, Caffeine Citrate. Plus it contains Dicaffeine Malate, which not only packs all the potent energy you desire, but is much gentler on the stomach than regular caffeine, effectively reducing the stomach discomfort so often experienced with many of today's pre-workouts.
And it contains a potent new energy and focus blend that delivers all the hard hitting drive and long lasting motivation you need to have the BEST workouts of your life.
But best of all, Power Chews Pre-Workout is a great alternative to other pre-workout formulas that contain 1,3-Dimethylamylamine. You simply won't find this ingredient inside!
So take control of your workouts, and your results. It's time for you to make the best gains you've ever made - and it all starts today.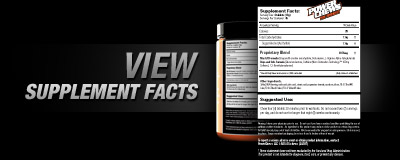 So how does it taste?
"Over 1,000 People Agree! Our flavors have BITE, and will flat out

ROCK

your taste buds!"
6 months of testing and over 1,000 volunteers later, we're proud to say the results are unanimous! Power Chews flavors will flat our rock your taste buds! Every bottle is loaded with 4 deviously delicious, sweet-tooth-satisfying, blow-your-mind flavors that taste out-of-this-world AMAZING! We're talking about flavors such as Watermelon Felon, Low Down Dirty Lime, the Mango Meanie, and the Tropical Tag-Team Terror...the Sucker Punch Bunch.
Traditional chewables are chalky because they use maltodextrin and cellulose to bind.
At Power Chews, we use Xylitol, which is not only healthy for your teeth, but creates a texture and consistency that's indistinguishable from sweet, mouth-watering candy.
With zero sugars, Power Chews Pre-Workout will deliver all the guilt-free, sweet-tooth satisfaction you crave, and all the wicked performance enhancing energy you need to take your workouts to a whole new level.